- HVAC Smart Relay Switch -

Energy-saving device for heating & AC
Ideal for hotels, vacation rental properties, apartments, homeowners and more!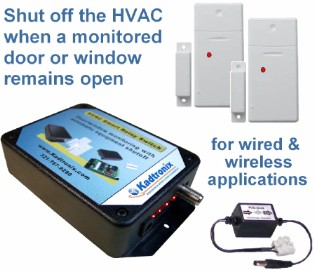 Wireless combo package shown above. (Includes antenna and coax cabling - not shown.) Wired combo package also available, $219 each.

Is it compatible with my HVAC system?
Please consult our FAQ for answers to common questions!
---
Description
In an era of high fuel costs, the HVAC Smart Relay Switch (HSRS) lowers energy bills by eliminating wasted power consumption. The HSRS eliminates waste by monitoring open doors and windows. Accepting wired and/or wireless sensor inputs, the HSRS automatically interrupts the HVAC system in the event of a violation such as a door or window that has remained open for a period of time or a room that has been vacant. The HSRS is a fully configurable device that provides energy efficient control for heating and cooling systems. In addition, the HSRS can be used as a general purpose controller for devices including dampers, fans, etc. The HSRS accepts one or more contact switch closures as control inputs. Compatible with door/window reed switches, motion sensors, toggles, pushbuttons, etc., the HSRS can accept any switch or sensor device having normally open or normally closed contacts. The HSRS is fully configurable using onboard DIP switches, allowing you to establish specific operational parameters. For instance, configure the device to temporarily disable the air conditioning or heating system when any door or window has remained open for 10 minutes and then re-enable when the door has closed. Onboard DIP switches allow you to configure operational mode and delay parameters.

| | |
| --- | --- |
| | The HSRS was recently featured by tripping.com, the premier search engine for vacation rental properties. |

The HSRS provides connections for as many as 4 wired inputs or zones. Each input can accept a single switch sensor or multiple sensors if wired in a zone configuration (sensors are wired in series or parallel). Typical switch sensors include reed switches, pushbuttons, toggle switches, or other devices. (Note that the HSRS can be configured to accept either normally-open or normally-closed switches.) Wired inputs are also compatible with TTL signals. (Note: Wired sensor cabling should be limited to 100 ft. max. at each input. Twisted-pair shielded cables recommended.)
And, with an optional RF receiver, the HSRS also accepts input from compatible wireless door/window sensors, motion detectors, and key fob transmitters. The wireless option provides inputs for up to 8 additional devices. Even deploy a combination of both wired and wireless sensors.
The
HSRS
is the ideal energy management solution, reducing power consumption and energy costs. Simply install door / window sensors and configure the controller with easy DIP switch settings.
---
Videos:
We have created several informative videos about the

HSRS

. Choose from the list to view the desired topic.
Or, click the embedded frame below to play the 3 videos in succession.
---
The HSRS is ideal for a number of venues including:
Hotels (also see hotel energy management solutions)

Hospitals
Condominiums
Office buildings
Industrial complexes

Apartments
Rental properties

Schools & Universities


and more!



---
Features:






Shuts off air conditioning or heating when a violation is detected
Compatible with existing central air conditioning & heat pump systems
Works with existing HVAC equipment; requires no thermostat modifications
Can also be used with PTACs, window fans, dampers, etc. (see note below)
Fully programmable via DIP switch settings
Configurable parameters including trigger polarity, LED mode, buzzer enable, etc.
Optional shutoff delay ranging from 1 sec. to 10 hours
Five status LEDs: system status plus switch sensor indicators
Onboard relay: 10A @ 250VAC, 5A @ 100VDC
Accepts wired inputs for monitoring up to 4 wired zones
Optional RF receiver add-on for 8 wireless door sensors, motions sensors, or fobs
Configurable re-activate (relay on) and de-activate (relay off) delay periods


Available modes for occupancy / vacancy detection (requires motion sensors)
DIP switches for mode selection & configuring operational parameters
Selectable re-activate / de-activate time delays
Terminal block connector for user wiring
Powered by external 12VDC adapter (optional 24VAC adapter also available)


Optional external power converter module accepts 24VAC for use with HVAC systems


Can be customized to suit your specific requirements





---
Have Questions?


---
---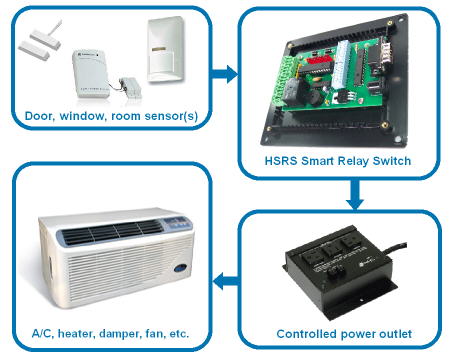 ---
Wireless RF Option



For installations where traditional wire runs are not possible or may be inconvenient, we offer a wireless option that consists of specialized controller, integrated RF receiver, door transmitters, whip antenna, coax cabling, and mounting bracket.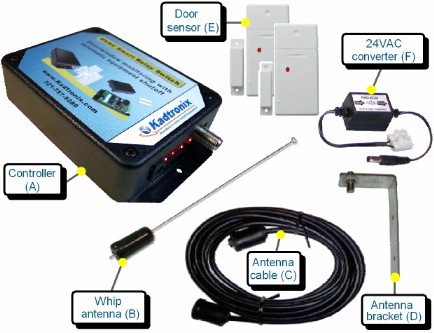 ---
HSRS Wiring Installation

The HSRS is ideally suited for use with split (central, ducted) systems. We recommend installing the HSRS controller near the air handler and routing a length of low-voltage wire into the unit for direct access to the HVAC's 24vac power. (Most any low voltage wire will suffice such as thermostat, telephone, intercom, or alarm wire.) The diagram below demonstrates a typical wiring installation.

Caution: Although HSRS wiring is not complicated, only a qualified HVAC contractor, technician or electrician should attempt the procedure. Wiring diagrams and instructions are provided for the purpose of demonstrating a typical installation. We accept no liability or responsibility for possible errors, omissions, or ambiguities. The installer assumes full responsibility for a proper install and to verify all wiring modifications. Should you encounter any issues during or after the install, contact us for free support by phone or e-mail.

Shut off power to the HVAC system.
Remove front cover from the HVAC air handler unit.

Detach HSRS enclosure lid by removing the retaining screws.

Locate the low voltage 24v wire that powers the thermostat (typically red).
Also locate the 24v common wire (typically blue or black).

Perform necessary wiring as illustrated in the diagram above.
Verify and double-check your completed modifications.


Replace air handler front cover.

Replace HSRS enclosure lid.

Restore HVAC system power.
A convenient terminal block is provided for wiring purposes. The table below lists the terminal connections:





| | |
| --- | --- |
| Terminal | Description |
| 1 | Input power (+12VDC) |
| 2 | Ground |
| 3 | No connection |
| 4 | Wired sensor #1 |
| 5 | Wired sensor #2 |
| 6 | Wired sensor #3 |
| 7 | Wired sensor #4 |
| 8 | Sensor return |
| 9 | Sensor return |
| 10 | Sensor return |
| 11 | Sensor return |
| 12 | Relay - COM |
| 13 | Relay - N/C |
| 14 | Relay - N/O |
Brochure

HSRS Brochure

(free PDF download)



Download

---
Comments / Feedback

As property manager of ocean-front vacation condominiums, we have had ongoing problems with guests who leave patio doors open so they can enjoy the view. This has resulted in enormous electric bills, especially in summer months when the air conditioning has run continually. We purchased and installed the HSRS in June, 2011 and were pleased to discover an immediate savings in our electric bills. The system has been extremely reliable with no false detections. In fact, one day a guest called to report that his air conditioning had stopped working. When asked if any exterior doors were currently open, he replied, "yes". After closing the door, the HSRS re-activated the a/c and resumed normal operation. I'd recommend the system to anyone looking to save money on their heating and cooling costs.

Sam M., Hatteras, North Carolina
---
---
Purchase

The

HSRS

is our flagship HVAC shutoff system and is available in both wired and wireless varieties.



| | | | |
| --- | --- | --- | --- |
| System | Wired | Wireless | Purchase |
| HSRS | $219 | $349 | Buy Now |
---