How does it work?



The system monitors compatible door/window sensors and shuts off the HVAC unit when a violation occurs. (A violation is defined as a door or window that has remained open for a pre-specified period of time.) System operation is restored when the violation clears (i.e., door or window is closed).


Does it require internet wi-fi?



No. Since the HSRS uses direct RF signals, there is no need for a router or complicated network setup.



Is it compatible with my HVAC system?

The HSRS is compatible with a variety of HVAC systems. See details below:

Split Systems (central/ducted)


The HSRS is compatible with central/ducted split systems, especially if utilizing a standard, low-voltage (24-vac) control circuit (as most split systems do).



Packaged Terminal Units (PTACs)

PTAC systems range in functionality and options. If your system provides inputs for front desk control and/or door/window monitoring, it should be compatible. Examples include Amana PTC09, Goodman PTH09, and others. (Contact us for assistance.)

Mini-Splits & Multi-Splits

Your mini-split or multi-split system may be compatible with the HSRS if it provides an option for external control. For instance, Mitsubishi provides the following add-on accessory hardware for external control purposes:


Interface control module, # MAC-333IF
Wiring harness, # PAC-715AD

(Contact Mitsubishi at 800-433-4822 to determine whether your particular model can be externally controlled.)



In addition, some mini-splits can be shut off by simply disconnecting the communications wire between the indoor and outdoor units. These systems would also be HSRS-compatible.

Fan-Coil Units




Fan-coil systems are typically compatible, especially if they utilize a low voltage (24-vac) control circuit.



Variable Refrigerant Flow (VRF)


Variable refrigerant flow (VRF) systems do not utilize a traditional 24v thermostat. Instead, these systems employ a control method that relies on a digital communication protocol.However, some VRF manufacturers may offer a 24v interface (add-on) option that allows the use of a traditional thermostat. In this instance, the HSRS would be easily compatible. Other VRF systems may provide a user-accessible connection input for "external on/off" control. This input usually accepts a simple contact closure via a length of wire, permitting shut-off control by a third-party device such as the HSRS.

Window Air Conditioners & Portable Units




Most room air conditioners are not conducive to external control by third-party systems.

If you have any questions, feel free to contact us for assistance.


Will it work with my mini-split system?

It depends - many of these systems provide no capability for external controlling the unit with a third-party controller such as the HSRS. However, some manufacturers provide special add-on options which permit this compatibility. (You may wish to contact your HVAC distributor or manfacturer to find out if your particular model supports this function.)

Note: When speaking with your HVAC representative, you'll want to ask whether there is an option for remotely shutting off the HVAC unit via external switch and/or relay contacts.
For example, Mitsubishi provides the following add-on items for external control purposes:

Interface control module, #MAC-333IF
Wiring harness, #PAC-715AD (for P-series models)

In addition, some mini-splits can be shut off by disconnecting the communications wire between the indoor and outdoor units. These systems would also be HSRS-compatible.

Refer to our compatibility FAQ for additional information.



Does it work with PTACs and window units?

Many window units and packaged systems provide limited capability for external control with a third-party device such as the HSRS.


Refer to our compatibility FAQ for additional information.


Can it work outdoors?

The system is designed for indoor installations only. If you need to connect the HSRS controller to an outdoor unit, we recommend that you run a length of protected cabling from the unit to an appropriate location indoors.


What's the cost for this system?



The wired combo package cost is $219. The wireless package is $349. (Each system includes relevant accessories - click here for details.)


How much will I save on my electric bills?



Savings will vary depending on your HVAC equipment, cost of energy in your area, and the duration of door/window infractions. Generally speaking, applications which are incurring worst-case infractions are likely to see significant savings. For instance, many vacation rental owners report that guests frequently leave patio doors open continuously while the air conditioning is running - a scenario that is certain to result in extreme energy bills. The analysis below underscores the severity of these expenditures and the possible savings from a solution such as the HSRS which can eliminate cost overruns.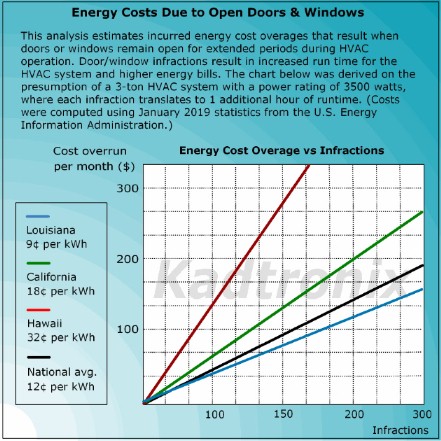 What's included?

The product is sold in one of two available combo packages: wired and wireless. The wired combo package includes the following items:


The wireless combo package includes the following items:

HSRS controller (with RF receiver)

Two (2) wireless door/window sensor
Power converter

Whip antenna

Decals

Is it easy to install?

In most cases, installation should be very straightforward, requiring about 1 to 2 hours of labor by a qualified HVAC technician. For a split (central) system, we recommend mounting the HSRS controller in the air handler closet and routing a length of low-voltage wire into the unit for direct access to the low-voltage (24vac) circuitry. For additional wiring information, click here.


Do I need a professional to install it?

Though installation is not difficult, we strongly recommend a qualified HVAC technician. For wiring information, click here.

Which system should I choose - wired or wireless?

There are several factors to consider including cost constraints and any structural limitations. The wired system is more economical, but incurs the labor-intensive activity of routing wires (inside walls, attic, etc) to each door/window sensor. The wireless system requires no sensor wiring and allows for a faster and simpler installation.


What type of cabling should I use for wired sensors?

In general, most any type of wire is permissible including thermostat, intercom, telephone, etc. However, in the interest of avoding issues due to RF interference and other potential anomalies, we strongly recommend cabling having the following characteristics:

A quality CAT5e cable may be suitable choice in this regard.


What is the sensor's size and apearance?

There are two sensor types: wired and wireless. Details about each type are available in our spec sheets listed below:


What is the maximum transmit distance for a wireless sensor?

The maximum distance is 100 feet in ideal conditions and assumes line-of-sight with no obstructions. The signal range can be serverly impeded by walls, floors, large metal objects, RF interference, etc.


Do wireless sensors require enrollment?

Yes - we refer to this process as registration (or pairing). It's a simple procedure that essentially "pairs" your sensor(s) to the controller. It ensures the HSRS controller accepts signals only from sensor(s) you specify, ignoring all others. Registration is invoked by pressing and holding the "Register" button on the controller. Then, simply activate the sensor by opening the door or window it has been mounted to. When the HSRS controller detects the signal, it will store the sensor's digital address in non-volatile memory. (Up to 8 wireless sensors may be registered.)


How does sensor addressing work?

Addressing provides the means by which a wireless sensor can be uniquely identified by the controller. The address is transmitted by the sensor on each door/window event so that the controller can identify the unit and properly validate it. If the address is valid (i.e., the sensor has been previously registered or "paired"), the sensor message is accepted and processed. Otherwise, the message is ignored and discarded.

Our earlier sensors (generation 1 & 2) do not store a permanent address, but instead self-assign a semi-permanent address.This assignment occurs at initialization (i.e., pushing the white button). The assignment is maintained by the sensor until the batteries are completely drained or when they are removed. As a result, Gen1 & GEN2 sensors must be re-registered when batteries are replaced. (The unit may be able to retain its address if its batteries are not completely drained and are replaced within 20 to 30 seconds.)

Generation 3 sensors have permanently stored addresses. There is no need to re-register as a result of replacing batteries.


Can I add more sensors?

Yes. For a wired installation, the controller provides four (4) wired sensor inputs where each input can accept a single sensor or multiple sensors which are daisy-chained. (With daisy-chaining, there is no limit to the number of sensors which can be applied.)

For a wireless system, a maximum of eight (8) sensors can be used. (If desired, you may implement a hybrid approach of both wired and wireless sensors.)


Are batteries required?

The wired system needs no batteries. Wireless (GEN2) door sensors require two alakaline AAA batteries - not included. GEN3 mini-sensors require a single CR2032 coin cell - included.


What is the battery life expectancy?

It varies for every application. Under normal operating conditions, it is not uncommon for batteries to last 2+ years for a GEN2 sensor, or 5+ years for a GEN3 sensor.


Do wireless sensors work with metal doors?

Wireless sensors work well with most doors - metal or otherwise. But in some cases, depending on the design & construction, doors and framing made of steel or aluminum can severely diminish or impede RF signal transmissions, resulting in hampered communication with the controller. In addition, the sensor's magnetic field detection can be adverseley affected by a steel surface, causing unreliable behavior.

Should you encounter malfunction due to suspected signal interference with a metal door, temporarily detach the sensor (and magnet) from the door. Then test the system, simulating door operation by manually moving the magnet (by hand) in proximity to the sensor unit. If the system now behaves properly, you have confirmed metal-door signal interference.

To resolve, re-apply the door sensor, using custom spacing (stand-offs, brackets, shims, etc.) to distance the sensor (and magnet) from the metal surface. In extreme cases, spacing of 1" or more may be necessary.


How do I connect a wired motion sensor?

You will need a total of four (4) wires for the install: two for 12vdc power and two for switch contacts. An external 12vdc power source is required. We recommend powering the unit directly from the HSRS controller. (Or, if preferred, you may use an optional ac power adapter [i.e., "wall-wart"].) The table below summarizes the wiring connections and assumes the HSRS controller provides 12vdc power to the sensor.

Motion sensor wiring:
--------------------
* Switch contacts: NC & C (to HSRS "Wired Sensor" terminals)
Power source : 12V & GND (to HSRS power - terminals 1 & 2)

* - Utilize the sensor's normally-closed (NC) contact if the HSRS sensor activation trigger state = OPEN (default). Otherwise, use the sensor's normally-open (NO) contact.



How will HSRS installation affect the internal wiring of my HVAC unit?

For a split (central) system, the HSRS controller is typically wired to your HVAC system so that it interrupts the 24vac power to the thermostat. (The controller is also powered from the same source - via a 24vac-to12vdc converter.)

This means minimal intrusion to your HVAC system's existing wiring and a relatively simple installation. For additional wiring information, click here.


What impact will the HSRS have on my thermostat?
Installation-wise, there should be no wiring changes at the thermostat itself since the HSRS is installed and wired at the air handler.
Operationally speaking, the thermostat may lose power when a door/window violation occurs since the HSRS will shut down the HVAC system by interrupting the 24v power source. Normal operation should be restored once the violation has cleared.


Can I wire the HSRS directly to my thermostat?

Nothing precludes it, but we generally recommend that you avoid any wiring modifications at the thermostat. Instead, the HSRS should be installed near the air handler with appropriate low-voltage wiring routed into the unit for direct access to the 24v transformer. For most applications, the thermostat is not directly involved in the HSRS installation.


Which thermostats work best with the HSRS?

Just about any model should be acceptable. Since the HSRS is installed at the air handler and has no direct interaction with the thermostat, practically all types should be compatible.
Keep in mind that the thermostat may lose power when a door/window violation occurs since the HSRS will shut down the HVAC system by interrupting the 24v power source. Normal operation should be restored once the violation has cleared.


Is it compatible with my Nest thermostat?

Yes. There should be no compatibility issues. However, Nest customers should be aware of the following considerations:

When shutoff occurs due to a door/window violation, 24v power may be lost to the HVAC system. This can result in the following message at your Nest thermostat's display:
"The power from your equipment to the thermostat may be off"

In addition, one of the following codes may be shown depending on the Nest generation (revision):
E3, E4 (1st gen)
E23, E24 (2nd gen)

E73, E74 (3rd gen)



The code may be accompanied with a message such as the following:
"No power to Rc/Rh wire detected"
This condition is to be expected and should be no cause for concern since the Nest thermostat will resume normal operation once the violation has cleared and 24v power is restored.
If HVAC power is off for a significant amount of time, the Nest thermostat's internal battery may begin to weaken. Should it remain off for an extended period, the device may disconnect from the internet and possibly power down.
This is a recoverable condition that is to be anticipated. Once the violation has cleared and 24v power is restored to your HVAC system, the thermostat will begin to recharge the battery and eventually resume normal operation. (Following restored power, the thermostat display may remain off until the battery is replenished. A blinking red light indicates that charging is in progress.)

Please consult your Nest thermostat's user manual for details.


Does it work with a communicating thermostat?

Yes. The communicating thermostat features a two-piece design consisting of a wall unit and a equipment interface module (EIM). The wall unit is the user interface with temperature display. It may have only 2 or 3 wiring terminal inputs, typically R, C, and data.

Note: Do not attempt to interrupt power to the communicating thermostat's wall unit.

Unlike a conventional thermostat, the wall unit does not directly control the peripheral equipment. Rather, it sends data signals to the EIM which, in turn, engages the equipment as necessary. The EIM, located at the air handler, has typical wiring inputs for HVAC control (Rc, Rh, C, Y, W, etc). Given this, there are several potential options for wiring HSRS relay contacts:

Option 1: Some communicating thermostats such as the Honeywell Prestige IAQ provide wiring inputs at the EIM for a condensate float switch or similar shutoff limit. In this instance, you may wire HSRS relay contacts to the specified inputs.

Option 2: If a float switch or other normally-closed shutoff switch exists, simply wire HSRS relay contacts in series with it.


Option 3: Break the "Y" wire (compressor / cooling) at the EIM and connect to HSRS relay contacts.
Note: HSRS relay contacts are: COM & N/C (terminals 12 & 13)

Will my HVAC system behave differently following HSRS installation?

You should notice no difference in the behavior of your system until a door or window violation occurs. This will cause the HSRS to shut off the HVAC system, keeping it inactive until the violation has cleared. When the violation clears, normal operation will be restored.


How do I configure the HSRS?

The HSRS controller provides 16 DIP switches for configuration purposes. They are used primarily for establishing desired delays for shutoff and re-activation. Additional settings are also provided.


Can I set up a pre-shutoff delay?

Yes. The pre-shutoff delay defines how long a door or window must remain open before HVAC shutoff will be mandated. The following delay selections are available:

1s, 5s, 10s, 30s, 1m, 2m, 5m, 10m, 30m, 1h, 2h, 5h, 10h


Is it reliable?

The system is designed to provide years of trouble-free service. As the HSRS designer and developer, I have used the system in my own home for several years with no issues. Having said this, you should be aware that the wired system will be inherently more reliable than wireless. That's because wireless signals are susceptible to interference and other RF related factors which may be difficult or impossible to control. Fortunately, these issues are rarely a problem. If you would like to know what our customers think, click here.


Will my compressor be protected following HVAC shutoff?

Most modern HVAC systems incorporate a suitable delay before allowing the compressor to be re-activated following a power interruption. (In addition, the HSRS provides an optional configuration setting to delay HVAC re-activation.)

What if I need to disable the system?

On occasion, you may find it necessary to disable the HSRS for HVAC maintenance, system upgrades, repair issues or other reasons. To disable the HSRS, simply detach the power converter cable where it inserts into the controller. This will power off the HSRS, preventing shutoff from occurring. Optionally, you may install a bypass switch across COM & N/C relay contacts.

Note: If the HSRS has already shut off your HVAC system, detaching the HSRS power converter cable (as described above) will immediately re-activate it. No further shutoffs can occur until HSRS power has been restored. (This presumes your application uses the normally-closed relay contacts at wiring terminals 12 and 13.)

Can I apply a bypass switch?

A simple toggle switch can be applied at relay terminals 12 & 13 (COM & N/C). When the switch is open, the HSRS has control of the HVAC and is permitted to shut off the system when a door/window violation occurs. When the switch is closed, HSRS operation is bypassed and shut off cannot occur, keeping your HVAC system enabled indefinitely.

Note: To avoid damage or injury, be sure to power off the entire system prior to installing a bypass switch or making any wiring changes.


Can I receive remote notification when the HSRS shuts off my HVAC?
Yes. If the location has active WiFi service, remote monitoring can be accomplished using a third-party product known as the WiFi Dry Contact Sensor. For details, click here:


May I contact your past customers?

In the interest of privacy, we are unable to provide contact information. However, we invite you to visit our comments page where you can read about the experiences of several HSRS customers.


Is there a warranty?

The product has a 1 year warranty.


Are there discounts for quantity purchases?

Yes. Simply request a quote and we will provide detailed pricing including volume purchase details.


Can I become a reseller for this product?

Qualified businesses can apply to become resellers and receive discounts on our products. As an approved HSRS reseller, you will receive immediate access to resource materials which you may use to advertise our products. You can also purchase product from us for resale to your customers.

So that we may better assess your qualifications, please kindly provide some information about your company using our convenient online application form:
reseller request

How do I place an order?

To place an order, simply visit our website:

http://www.kadtronix.com/shop/hvac-smart-relay-switch

Or, for personalized assistance, drop us an e-mail (sales@kadtronix.com). Please provide the information below for invoicing. You may also use our online form.

Type of HVAC system (i.e., central, mini-split, ptac, window, etc.)
Number of sensor(s) desired
Contact person
Company Name
Billing address
Shipping address
Phone