---
Description
Tennis ball launcher consists of steel frame construction, dual DC drive motors, and 8" wheels. It features transparent chute with custom-designed ball feed mechanism. The launcher is suitable for use in commercial OEM products, education, and research.

---
Features
1" high strength steel frame with painted black finish
Two structure designs: table-top or floor-stand with 24" stand
Removable leg supports (table mount version)
Manually adjustable direction and launch angle (floor-stand model)
Dual high-efficiency DC motors
Ball ejection speeds up to 60+ MPH
Transparent chute with computer-controllable ball-feed mechanism
Feed rates up to 90 balls per minute
Dual-purpose dust-cap also functions as safety block


---
Specifications
Weight: 20 lbs
Table-mount dimensions: 14"L x 16"W x 18"H
Floor-mount dimensions: 21"L x 21"W x 40"H
Motors: 24VDC / 14A
Max ball speed: 60+ MPH
Max feed rate: 90 balls per min.
---
Uses
Tennis

Education
Research
---
Video Demo

Want to see the launcher in action? Click the link below for a video demonstration:






Note: The video incorrectly lists a max. ball speed of 100+ MPH. The actual ball speed is 60+ MPH.
---
The Tennis Ball Launcher was created as a prototype for demonstration purposes and is not available retail sale. However, a design guide is available for purchase. This instructional manual describes design & construction details associated with the launcher and contains descriptions, assembly instructions, suppliers, parts list, and over 60 photos and diagrams.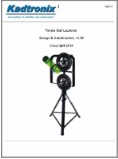 The guide is available in two editions:

standard

and

lite

. The standard edition contains complete details and is intended for anyone who may be interested in building the launcher or a similar machine. It includes all the information you will need to obtain the necessary components and to construct the unit.The lite edition is intended for those who may be interested only in a construction overview. It excludes some information such as suppliers, part pricing, and detailed construction notes. (A free preview of the manual is also available.)



* Please carefully review the terms and conditions below prior to purchase.




Item

Price

Savings

Purchase

Design Guide

4MB - PDF


reg. $39.00
sale

$29.00




25%

Design Guide



(Lite Edition)

4MB - PDF

reg. $19.00
sale

$15.00

20%

Preview

500K - PDF


free




-



Download





The design guide is a PDF manual that will be provided electronically, typically within 1 business day after purchase. You will receive an e-mail with download instructions.

The manual is considered intellectual property and may not be re-sold, copied, distributed, or published. The buyer receives licensed access to the materials and is not permitted to share them with any other parties. Purchase of the guide indicates your acceptance of these terms.

While every effort has been made to provide reliable part data, please understand that suppliers frequently change their inventory without notice. We cannot assume responsibility for modified pricing, depleted stock, discontinued parts, or related issues.

The guide describes only the floor-stand model and does not cover the table-top system.
The ball-feed mechanism utilizes a hobby RC servo motor for feed activation. While the guide describes mechanical installation and assembly of the mechanism, it does not describe servo control considerations. RC servos require a special electronics interface that is beyond the scope of the manual. However, the guide discusses an alternative manual activation approach that utilizes a testing device.
This project requires medium to advanced experience with mechanical assembly and fabrication. While expert skill is not required, the novice might find portions of the project somewhat challenging and should seek appropriate assistance as necessary.

All sales are final. Unfortunately, we cannot provide refunds for this item.
---