Quad Relay Controller

Featuring wired remote control inputs. Includes AC adapter.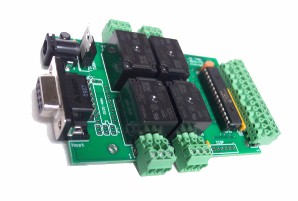 (Also available with USB, RS-232, and RF options.)
The Quad Relay Controller is a remotely operated device that can be used for activating up to four separate electrical circuits. The controller has four onboard relays, each with 10A contacts (limited to 5A by board traces). These are Form C relays having normally-open, normally-closed & common contacts. The following control methods are possible:
External switch closure (four inputs)

Serial host command (model QRLY-5150 only)
Each relay is individually controllable by one of four external switch closure inputs. To implement a switch closure input, simply apply a length of 2-conductor wire such as telephone cabling or speaker wire and connect a normally-open switch of your choice. (Suitable switches include reed, pushbutton, rotary, toggle, etc.)
We offer three (3) different device models:
QRLY-4151: Basic switching

QRDS-1000: Delayed switching

QRLY-5150: Host control (USB, RS-232, or wireless RF)
Choose a standalone model (QRLY-4151 / QRDS-1000) for wired control or a host-control model for accepting serial host commands. (Host control options include USB, RS-232, and RF wireless.) The following
purchase options
are available:
Basic Switching
Delayed Switching (0 to 3 minutes)

USB host control

RS-232 host control
Wireless RF keyfob remote

The product can be used in a variety of applications:
Robotics
Industrial control
Animatronics
Security
Medical devices
and more!
---
To support a variety of applications, we offer the following devices and options listed below:

Basic Switching

(standalone, for general purpose applications)

Delayed Switching

(standalone, featuring selectable delay: 0 to 3 minutes)

USB

(includes 6-foot host cable with type 'A' connector)


RS-232

(requires 9-pin serial host cable, not included)


Wireless RF

(includes keyfob transmitter with battery)

---
Serial Host Commands:



(QRLY-5150 devices - except RF option)
When using a serial communications method (TTL USART, USB option, or RS-232 option), the host may issue commands for relay control. You may use a terminal emulator program such as HypterTerminal or Docklight to issue commands. Alternatively, a custom developed application may also be used. Available commands are listed below:

RONn [ttt] --Activate relay [n = 1,2,3,4] [ttt=duration (secs)]

RON! [ttt] --Activate all relays

ROFn --Deactivate relay [n = 1,2,3,4]
ROF! --Deactivate all relays

GETn --Get relay state [response = "OFF" or "ON"]
Each command to the controller must be terminated with a carriage return (13) character. (Responses from the controller will also be appropriately terminated.) "
OK\r
" is returned by the controller in response to a valid relay activation or deactivation command. The following examples illustrate proper command usage:
RON2\r -- Activate relay #2
ROF2\r -- Deactivate relay #2
RON2 025\r -- Activate relay #2 for 25 seconds, then deactivate
GET2\r -- Get activation state for relay #2
---
Features:






Four (4) relays, 10A contacts (5A actual, limited by trace width)
Four (4) wired switch closure / TTL inputs
Optional variations include basic switching, delayed switching, USB, RS-232, and RF
Includes AC adapter
Optional plastic enclosure with mounting flange


---
Design Licensing
| | |
| --- | --- |
| | This design is available for OEM licensing. Licensing permits your company to manufacture this item and allows you royalty-free sales and distribution rights. Click here for additional details. |
---
Purchase



Notes:

We keep a limited supply of this item on hand. A lead wait of 2 to 3 weeks may be incurred.
Shipments will not contain a CD or other software media. If software is applicable, it will be delivered electronically. (A valid email address is required for delivery.)

---