---
Description
Don't bother with cheap alternatives! Our converters can be adapted to most any Wiegand format (up to 99 bits). Plus, Windows software makes setup a breeze!

The Wiegand-to-RS232 Format Converter (WRFC) provides format conversion for Wiegand output devices such as card readers and sensors. The WRFC may be used in access control and other applications where it may be necessary to interface a Wiegand device to a serial-based system. It is also useful as a platform for decoding Wiegand signals. The WRFC provides seamless format conversion, accepting a Wiegand source input and outputting a stream of ASCII characters.
The WRFC is simple to install and is ideal for access control applications, especially where it may be necessary to interface a Wiegand source device to a system that anticipates RS-232 data. Compatible source devices include legacy card readers, specialized sensors, etc.

Consider these features:

Converts Wiegand signals into standard ASCII numeric data

Configurable DIP switch option settings
Accepts Wiegand source data from compatible card readers

Also accepts data from specialized devices including Wiegand sensors

Outputs standard ASCII characters
Apply optional prefix and suffix strings to the ASCII output
Configurable Wiegand input formats

User-defined custom formats also possible (via ASCII host commands).
Optional voltage output via DB9 connector for port-powered devices
Configurable baud rate (9600 & 19200)

Availble Windows host software simplifies custom format setup.

DB-9 (female) connector
Compact size (measures 5.3" x 3.3" x 1.5")

Optional relay and piezo beeper
Includes USB-to-RS232 cable (for Windows host application comm.)

AC adapter (12vdc)
Notes:

Systems without a compatible RS-232 port will require a suitable adapter. For instance, a PC or laptop with only USB ports can utilize a USB-to-RS232 adapter.
In some applications, it may be necessary to emulate the output a particular device such as a magnetic stripe card reader. These devices are known to employ special characters including field identifiers and delimiters. In these instances, you may wish to define optional prefix and/or suffix strings. (Refer to the user manual for details.)
---
WRFC host software for Windows provides the capability to configure the converter to accept a wide variety of Wiegand formats including standard and custom types. It also allows you to define the desired output format for the converted ASCII data. (If your host PC has no RS-232 ports, then a compatible USB-to-RS232 adapter will be required.)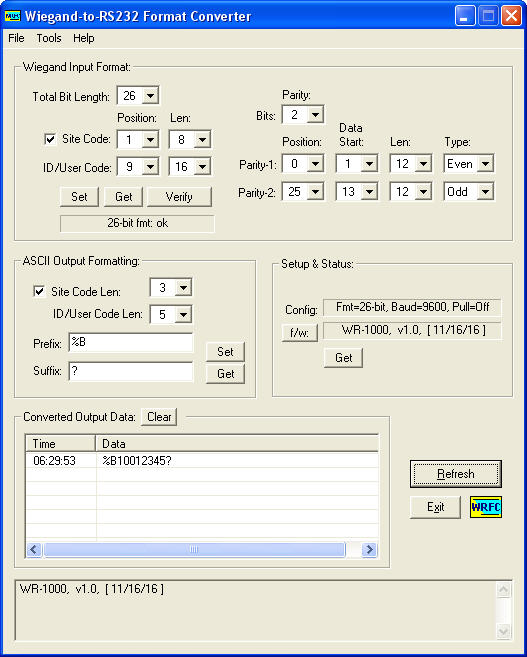 The software permits you to define source data parsing and enables you to create custom formats. The table below summarizes software features:


WRFC Software Features

Feature List
Converts Wiegand input data to ASCII numeric characters
Accepts standard 8-bit and 26-bit Wiegand formats

Optionally define user defined (custom) formats

Accommodates Wiegand data sources such as card readers and sensors

Configurable ASCII output formatting

Report the current format configuration settings

Can be used to decode incoming Wiegand data

Configurable output baud rate (9600 or 19200)

Available DIP switch option settings
Optional peripherals including beeper and/or relay

AC adapter (12vdc)


Note: Our user manual contains a section which defines available commands for those who are interested in developing their own host application.



---
Design Licensing
| | |
| --- | --- |
| | This design is available for OEM licensing. Licensing permits your company to manufacture this item and allows you royalty-free sales and distribution rights. Click here for additional details. |