---
Description
The Wi-Fi Multi-Device Control (WMDC) System provides automatic control for remotely located devices or equipment including HVAC units, pumps, industrial machinery, and more. Well-suited for both short-term and long-term control, the WMDC provides automatic control via schedules which you create. For instance, a hotel manager can specify a schedule to activate the air conditioning in room 214 for a guest whose reservation indicates that he will be arriving in two weeks and staying for 5 days and nights.

You can even designate specific days of the week within a schedule. For instance, the building supervisor of a school can can create a nine-month schedule which automatically activates the HVAC system for individual classrooms, but disables the system on Saturdays and Sundays.

Ideal for hotel room energy management, the system is capable of providing automatic control for up to 100 remote units such as individual guest rooms and offices. The following venues are candidates for use with the WMDC:

Hotels

Office complexes
Hospitals

Schools
Rental properties
and more!


The illustration below depicts a typical configuration and highlights the communications hierarchy: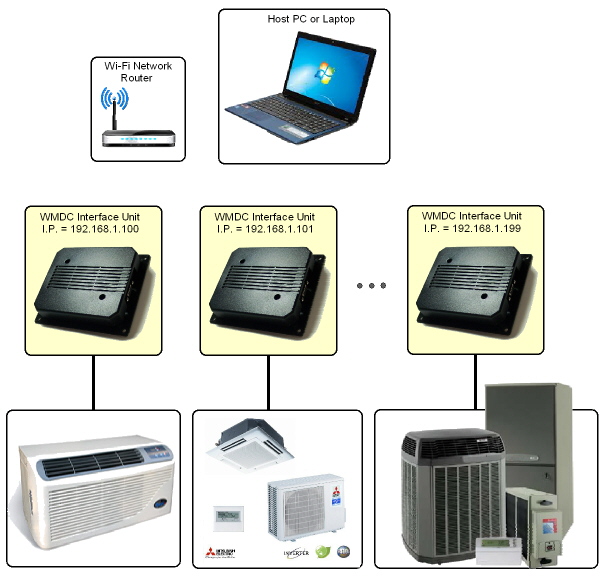 The product is a plug-and-play solution that consists of up to 100 remote controllers and compatible Windows software. The WMDC supports the following remote operations:

Manual Off
Manual On
Scheduled (automatic) On/Off
Scheduling permits you to define one or more events for automatic execution. Each event defines a start date/time (activation) and an end date/time (deactivation). The scheduling feature supports up to 10 individual events per remote device. (Events are created at the host and uploaded to the controller where they are stored in non-volatile memory. Subsequent host interaction is not required.)

The WMDC controller is sleek and compact, measuring only 5.5" x 4.75" x 1". This Wi-Fi solution is simple to install and requires no communications wiring. It is ideal for use in a number of applications:

HVAC control
Automation
Remote control

Equipment activation
Scheduled alerts
Access control

OEM applications
Robotics

The WMDC permits you to configure the WM-1000 controller, operate the onboard relay for activation/deactivation, and create event schedules.


The WMDC is comprised of two primary elements:

WM-1000 controller

WMDC software (Windows)

Compatible with standard Wi-Fi networks, the WM-1000 controller is a self-contained device with wireless TCP/IP interface and AC adapter.

WMDC Client software is compatible with WM-1000 controllers. This software provides functions for controller configuration, initialization, scheduling, and more! There are 3 available editions: lite, standard, & premium. The table below summarizes the features for each edition:
WMDC Software Features

| | | | |
| --- | --- | --- | --- |
| Feature List | Lite | Standard | Premium |
| Ethernet TCP/IP communication via Wi-Fi | | | |
| Provides relay activation methods | | | |
| Supports device configuration & initialization | | | |
| Supports remote activation of relay device | | | |
| Supports event scheduling | | | |
| Supports 1 remote relay controller & 1 scheduled event | | | |
| Supports up to 10 remote relay controllers & 5 scheduled events for each controller | | | |
| Supports up to 100 remote relay controllers & 10 scheduled events for each controller | | | |

WM-1000 controllers are easily configured for your network using a suitable USB-to-RS232 adapter. Or, if desired, we can pre-configure the controller(s) for you. The following network parameters are applicable:

SSID
Passphrase
Gateway (router) address
Static I.P. address
Port number

The following network authentication modes are supported:

Installation is a breeze. Simply wire your device or equipment under control to the onboard relay (via convenient screw terminals). Mount the controller unit onto a convenient wall or other surface and plug the AC adapter into a nearby wall outlet. Use our Windows PC host software to configure network parameters and specify a device ID.

---
Features:






Wireless operation - no communications cables
Easily integrates into your network
Internally integrated Wi-Fi antenna
TCP/IP protocol
802.11 b/g
Authentication modes: WEP, WPA, WPA-PSK
Onboard relay with 10A contacts
Supports both manual operation or automatic scheduled events
Supports manual override via host command or wired input.
Status LEDs: system status plus network indicators
Windows host software for configuration, initialization, & scheduling
Automatic date/time correction and schedule upload
Internal DIP switches for Wi-fi configuration mode
DB9 host interface for configuring Wi-Fi interface parameters
Slimline enclosure, measures: 5.5" x 4.75" x 1"
Easily detached lid for wiring and configuration operations
Includes AC adapter

---
Design Licensing
| | |
| --- | --- |
| | This design is available for OEM licensing. Licensing permits your company to manufacture this item and allows you royalty-free sales and distribution rights. Click here for additional details. |