The Multi-Lock Controller (MLC) is a remotely operated device that can be used for activating up to ten (10) individual electronic locks. Ideal for OEM applications, the MLC accepts simple ASCII commands from a PC or other host device. Available host methods include RS-232, RS-485, and USB (requires USB-to-RS232 converter). Applications requiring more than 10 locks can utilize multiple MLC devices.
Having dual activation modes, the MLC can control either magnetic locks or solenoid devices (or any desired combination). The MLC features three (3) terminal block connectors for user wiring. Two of the connectors are for wiring locks (up to 5 locks per connector). Each terminal block provides a load capacity of 1 amp. (e.g., 2 loads @ 500ma each, 5 loads @ 200mA each).
Note: If locks uilize a higher current draw than allowed, then intermediate device(s) should be applied (e.g., relays, power transistors, etc.). The MLC is suitable for a number of applications including the following:
Keyless lockers & mailboxes
Tanning room access
Tool storage bins
Vending machines
Equipment control
Storage facilities
Meeting rooms
Fire doors
The MLC accepts predefined commands from a PC or other device and supports the following host communications methods:
RS-232 (or USB with appropriate converter)

RS-485
---
Application #1:


"Tool Access System"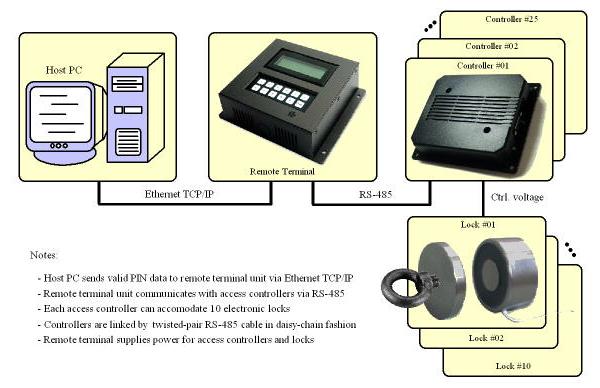 ---
Application #2:

"Keyless Mailboxes / Lockers"