The Magstripe Card Access System for USB (
MCAS-USB
) is a plug-and-play solution that is the basis for any number of applications including card logging, door/gate access, and more. Installing in just a matter of minutes, it is the ideal implementation for anyone who requires a simple, low-cost solution. The
MCAS-USB
is comprised of the following elements:
Magstripe USB card-reader
USB relay interface (for door/gate/machine activation)

MCAS host software for Windows PCs

The card reader accepts a standard encoded magnetic stripe card. Examples include driver licenses, credit cards, gift cards, hotel room cards, and more. Custom encoded cards may also be used.
MCAS-USB
is simple to install and requires no complicated wiring or setup operations. It is ideal for use in the following applications:
Kiosks
Card logging
Time tracking

Door/gate access

Office area access

Gated communities
Industrial automation
Equipment control

Inventory tracking

Student identification

Employee attendance

Tradeshows & conventions
Security systems

OEM applications
---
The MCAS USB software for Windows is our flagship card access software. With a database capacity of more than 50,000+ card users, MCAS USB Online provides functions for card access, logging, enrollment, and more!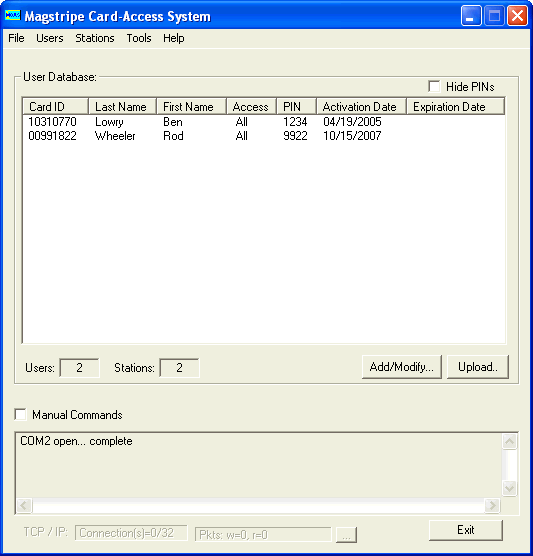 Installation is a breeze. Simply mount the card reader on a convenient wall or other surface and plug the USB cable into an available port on the PC. (An optional USB extender may be employed for increased cable length.) Install the MCAS software by opening the provided setup exectuable and follow the on-screen instructions.

As of Windows 8.1, USB HID card-readers are registered to new POS HID device classes and may not work properly with the USB Plug-n-Play MCAS application. The issue is easily resolved with a simple driver re-assignment at the Windows device manager.

The application utilizes a polling approach to communicate with the card reader, sending commands and receiving card data. There are two available software editions:
MCAS Standard provides basic features including add/modify/delete card users, dynamic card monitoring, and manual commands. It also offers date-based card expiration, automatic-uploads, and card-access logging. You may also set configuration parameters such as relay activation method, time delays, etc.
MCAS-Premium offers all the features and options of MCAS-Standard plus photo enrollment / identification. For additional information regarding the MCAS software including edition comparisons, please visit the following online resource:
The standard edition includes a database import feature that automatically imports database updates from compatible CSV files. Sample CSV records are listed below:
"Update","Act.Date","Status","Last Name","First Name","Card ID","PIN","Expire","Acc.Ref.","Access","No.Accesses","Timestamp"
'1','07/30/10','42','Lowry','Ben','0103107700','1234','07/31/10','-1','65535',' ',' '
'1','07/30/10','42','Wheeler','Rod','0000652699','9922','07/31/10','-1','65535',' ',' '
---
For applications requring automatic activation of a door, gate, or other equipment, a USB relay board is included:


The USB relay board permits automatic activation of external devices and door/gate circuits. Simply wire your door or gate circuit directly into one of the two provided onboard relays. (The relay acts as an electrical switch.) When a valid card swipe is presented to the reader, automatic circuit activation occurs.


---
Features:






Plug-n-play installation - no complicated setup
Includes card reader and MCAS-USB host software
Accepts standard track-2 encoded magstripe cards
Optional relay interface device for door/gate access
May also be used for card logging applications
Windows host software for card maintenance, logging, etc.
Compatible with Windows XP, Vista, Win7, etc.

---
Design Licensing
| | |
| --- | --- |
| | This design is available for OEM licensing. Licensing permits your company to manufacture this item and allows you royalty-free sales and distribution rights. Click here for additional details. |
---
Documentation

User Manual

(free PDF download)



Download