Use your PC as a multimedia kiosk!
low as $39

---
Description:
The USB Kiosk Manager (UKM) lets you use your PC as a multimedia kiosk. Compatible with UsbMicro U4x1 hardware, the UKM can be used with external peripherals including motion detectors, lights, buzzers, motors, cameras, and more!

The UKM allows you to specify an action to occur when a specific trigger input occurs. For instance, you can configure the software to play a .wav file or video presentation when a motion detector trigger occurs. Even activate a screensaver, send an email message, launch an application, etc. With 7 different notification types, the possibilities are limit-less.

Web based services such as Gmail, Hotmail, and Yahoo cannot be used for sending e-mails.
Kadtronix offers the USB Motion Detector which is compatible hardware for use with the UKM.

---
Features:
---
Screenshot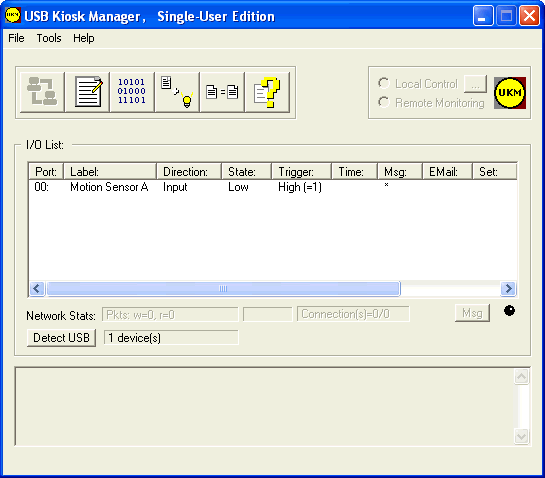 ---

For those who wish to develop custom hardware, the UKM is also compatible with the following UsbMicro U4x1 interfaces:


USBmicro U4x1

16 onfigurable I/O signals
1 Mbps peak speed
Includes SPI interface
Relay control (U451 only)

Board size: U401: 3.5" x 1.0", U421: 1.5" x 0.75", U451: 2.75" x 1.75"
---

Download


Free 14-day trial offer:
A free 14-day trial is available for a "try-before-you-buy" experience. If you have possible PC compatibility concerns or you simply want to take a test drive, you are invited to install and use the trial.


When you are ready to purchase, simply request a license key to activate your software. No additional download will be required.


Compatibility: This software operates a Windows PC and requires a 32-bit platform. (May not perform properly on 64-bit platforms.)
---
Buy USB Kiosk Manager:


Product

Price

Purchase

USB Kiosk Manager (software only)
(hardware not included)

$39.00

USB Kiosk Manager, LAN Edition (software only)
(hardware not included)

$99.00

USB Kiosk Manager Combo
(includes USB Motion Detector)

click here
*** Important: Please read...***:
Purchases are handled by PayPal. You do not need a PayPal account or membership. Non-PayPal members may complete the purchase with a major credit card. When you are re-directed to the PayPal website, simply click the "Secure Checkout" button if available. Or, look for the following:
"If you do not currently have a PayPal account, click here".
Software download instructions will be provided after purchase.
---