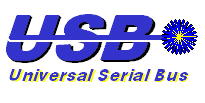 SW-150
USB Switch Interface Board
Reads up to 150 mechanical switches
Price: $149 (includes SW-150 hardware interface,
Windows drivers, & configuration utility)
Includes interface board, USB cable,
Windows drivers and configuration utility
---

Description

The SW-150 Switch Interface board allows you to easily access input states for as many as 150 mechanical switches. Compatible with normally-open, momentary switches and relay contacts, the device detects and reports switch-closures. The SW-150 uses a 15 x 10 matrix configuration and includes a 30-pin connector for wiring your switches. When a switch-closure occurs, an ASCII text message string is generated which can be output to the Windows keyboard buffer and/or log file. When output is directed to the keyboard buffer, the active Windows application that is in the forgeground (i.e., the top-most window) will receive the text. When output is directed to log files, messages are saved to text files in the folder that you specify. Detection messages have the following format:

In the format above, "xx" is the two-digit row and "yy" is the column representing the switch that has activated. For example, a message of "R01C02" indicates that the switch located at row 1, column 2 was activated. For wiring details and connector pin-outs, refer to the wiring diagram.

SW-150 is ideal for a number of applications including:
Industrial I/O
Switch-boards
Keypads
Interface panels
Operator stations
Robotics
Vending mahines
Alarm & security systems
Robotics
The software provides the following configurable settings:
Repeat rate
Scan rate
Piezo-beeper duration
LED duration
Message output (keyboard buffer or log file)
Time-stamping
---
Features:



Interfaces up to 150 normally-open, momentary switches


Selectable message output to keyboard buffer and/or log files


USB Plug-N-Play


Audible piezo-beeper


Onboard status LED


External signal for optional LED at your switch-matrix panel


Configurable repeat-rate, scan-rate, etc.


Bus-powered from USB cable (no external power supply)


Includes Windows drivers and configuration utility
---
SW-150 Hardware
---
Screenshot - Main Dialog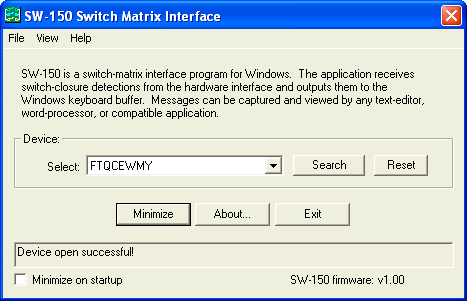 ---
Wiring
Switches must be wired in a 15 x 10 matrix configuration. For details, you may view the wiring plan by left-clicking the following icon (Adobe Acrobat Reader required):




To wire your switches, a compatible 30-pin female connector and cabling are required (not included). See the table below for descriptions and part numbers:


Connector & cabling for wiring your switches



| | |
| --- | --- |
| Description | Part Number |
| Connector, 30-pin, female, rectangular IDC, 2-rows, 0.1" pitch | Digi-Key #HKC30H-ND or equiv. |
| Ribbon cable, flat, 30-conductor | Digi-Key #AE30G-5-ND or equiv. |
| Optional strain-relief for 30-pin IDC connector & cable above | Digi-Key #MKSR30-ND or equiv. |
---
Purchase Details
Pricing

Purchase

SW-150 Switch Interface
(Includes hardware interface, USB cable, and Windows software plus drivers.)

$149

Contact Us


Important: Please allow 1 to 2 weeks for delivery of hardware. (Shipment will not contain software or CD.) Software must be downloaded from the Kadtronix website. Download instructions will be provided via e-mail within 1 to 2 business days after completed purchase.
---