What card-readers may I use with MCAS?
Magnetic-stripe (magstripe) and RFID proximity readers may be used with MCAS. The following are compatible interfaces: serial RS-232 and TTL (clock/data). Wiegand interfacing has also been recently added. The following tables list some compatible readers. (Others are also possible. Contact us for details.)

Magnetic-Stripe Readers

| | | | |
| --- | --- | --- | --- |
| Vendor | Type | Interface | Part No. |
| MagTek | Single-track (2) | TTL | 21050002 |
| MagTek | Dual-track (1,2) | TTL | 21050004 |
| MagTek | Single-track (2) | RS-232 | 21040075 |
| MagTek | Dual-track (1,2) | RS-232 | 21040071 |
Proximity Readers

| | | | |
| --- | --- | --- | --- |
| Vendor | Type | Interface | Part No. |
| ID Enhancements | HID ProxPoint Plus | TTL | 6008 |
| | | | |

How many MCAS controllers may I attach to a single RS-485 network?
Up to 32 controllers may be attached on a single RS-485 cable. Access requires a single COM port on your PC and a RS232-to-RS485 converter. Each controller is programmed with a unique address which allows it to be accessed by the host PC. If you need to expand beyond 32 controllers, you may do so using additional RS-485 networks. This requires additional COM port(s) and RS-485 converter(s).

What is the cost of a complete MCAS system?
The MCAS system is very affordable. Actual cost varies depending on your specific requirements. (For a price quote, click here.) The following minimum components are required for each MCAS implementation:
MCAS (BL1810) controller (plus firmware programming)
Card-reader (magstripe or proximity)
Host computer (PC)
RS485 cabling
In addition, depending on your application, you may also need one or more of the following additional items:
Field wiring terminal board (recommended)
Door/gate activation device (e.g., actuator, electric door strike, magnetic lock, etc.)
Door-exit switch
If you would like a price quote, click here.


How do I purchase a MCAS controller and how is it programmed?
Contact Kadtronix and provide a brief description of your application


Be sure to provide notification via e-mail so we can expect your shipment.

Can you do custom programming for my unique application?
Yes. In fact, a large part of what we do involves custom software and firmware. If you've got a unique application, drop us a note and provide a brief description of your requirements.

Do you offer discounts for quantity purchases?
Yes. Contact us. for details.

What is a "reader station"?
A reader station refers to the collective hardware in an access area. It typically consists of a MCAS controller, card-reader, power-supply, and RS-485 cabling. In addition, a RS232-to-RS485 converter is required for host communication. (Only one converter is needed and shared by all reader stations on a RS-485 network.) There may be additional equipment including door access hardware (e.g., electric door strike, magnetic lock, etc.), exit button, and the like. Up to 32 reader stations or access areas can be supported on a single RS-485 network.

Can a reader station function standalone, without the host PC?
Yes. A host PC is required only for initial setup and occasional database maintenance. The MCAS controller needs no other interaction with the PC and runs autonomously. In fact, if the host RS-485 link is lost or the PC shuts down, the MCAS controller remains completely unaffected and continues to perform its pre-programmed access function. Even in the event of power loss, the MCAS controller's battery-backed database will be maintained and normal operation restored when power returns - without the need for restart or re-initialization by the host PC.

What is the recommended supply voltage for the MCAS controller?
The controller will accept a voltage range of 7.5 to 25VDC. However, if you plan to implement a door-activation device, your supply voltage must match the coil voltage of the activation relay. Our field wiring terminal board (FWTB) includes an activation relay with a coil voltage of 12VDC. Therefore, 12VDC is recommended if you use the FWTB.

What is RS-485?
RS-485 is a communication protocol used for transmitting and receiving data between computers. Most PCs do not have RS-485 ports, but RS-232 instead. Your PC probably has one or more COM ports which use the RS-232 protocol. RS-485 is similar to RS-232 in some respects, but can handle much greater distances and features multi-drop networking capability. To use MCAS with a PC having only RS-232, you will need a device known as a RS232-to-RS485 converter. In MCAS, the RS-485 network consists of a host PC (master) and one or more MCAS controllers (slaves). The number of controllers needed will be determined by the number of reader stations your application requires. Regardless of the number of controllers you choose to implement, only one RS32-to-RS485 converter is required per network. The diagram below provides an illustration of a typical RS-485 network (converter not shown, but assumed to be part of the "Host PC" block):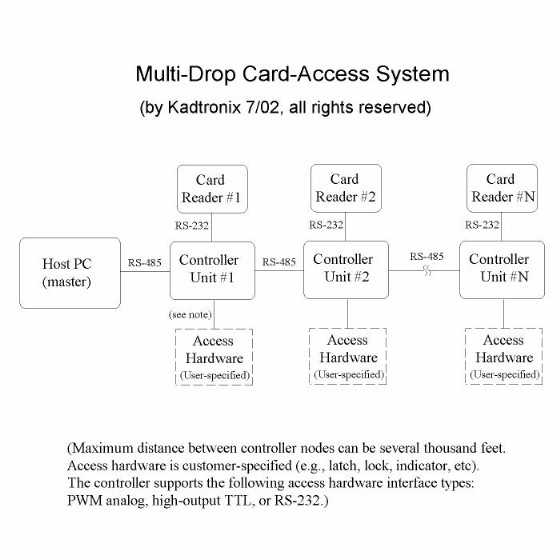 Where can I learn more abour RS-485?
To learn more about RS-485, investigate the following online source:

RS485 Converters and Technical Data, B&B Electronics

Do I need a converter for RS-485 communication?
Yes. The converter allows your PC to communicate over the RS-485 cable to the MCAS controller(s). B&B Electronics supplies a number of converter types. They carry a number of models including internal converter cards, and port-powered external modules (RS-232 and USB). The 485BAT3 is a good external, port-powered converter. The diagram below shows how to wire the converter: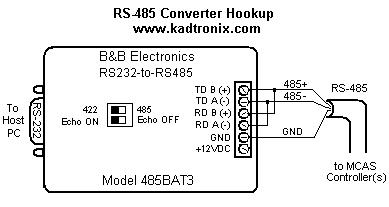 What if I require RS-232 or Ethernet host comm. instead of RS-485?
MCAS-1810 controllers support RS-232, RS-485, and Ethernet host communication.

Do you offer host control software?
Yes. Low-cost MCAS host software is available. Click here for details.

Where can I obtain magnetic-stripe card-readers?
Magtek offers an array of readers. Click here for compatible models.

What types of magstripe cards may I use with MCAS?
Track-2 compatible magnetic-stripe cards including ATM, driver's license, grocery, and credit cards. You may also use custom-encoded cards. We can provide precoded (track-2) blank-face cards for your application. If desired, each card-face can be printed with its unique card-number.

What's the difference between TTL and RS-232 readers?
Operationally, there is not much difference. Both types are compatible with MCAS. In fact, your application will not know the difference. TTL (clock/data) readers are generally less expensive since they provide no onboard processing for assembling card data. On card-swipe, there is no data latency as they deliver the data immediately to the controller (i.e., MCAS) to assemble and decipher in realtime. RS-232 readers provide a standard, more popular interface. On card-swipe, they assemble and decipher the data, relieving the controller of this duty. The deiphered data is then delivered to the controller. (RS-232 readers introduce a minimal amount of data latency.) Both readers work well and are suitable for use with MCAS.

Does MCAS support proximity readers?
Yes. HID manufactures a compatible reader. Click here for details.

Where can I obtain proximity readers and cards?
ID Enhancements offers readers and cards. Click here for compatible models

What is the maximum distance between MCAS card-reader controller and host computer?
RS-485 supports communication distances up to several thousand feet. RS-232 communication should be limited to 100 feet or less.

How many users can the MCAS controller store?
The MCAS local database stores up to 1000 users. Programmers with Visual C++ experience can allow for more users by storing them on the host's hard-drive.

How do I connect devices to the MCAS controller?
Kadtronix provides detailed online wiring information including a field wiring terminal board (FWTB) for easy interfacing. Click here.

Can you customize MCAS firmware for my unique application.
Yes. We realize that no one solution fits all needs. Kadtronix can customize MCAS controller firmware for your unqiue application. Want to learn how we can help? Contact us today.

What are some typical MCAS applications?
ATMs
Hotel room access
Employee badging
Security systems
Student IDs
Industrial automation
And more!