The Employee Time and Attendance System (ETAS) is a low-cost, customizable time-tracking solution for OEMs and manufacturers. The system features keypad, LCD display, and your selection of magstripe, barcode, proximity, or biometric reader. With onboard, battery-backed local database, the terminal supports up to 250 employees.

The system also includes features for optional access control. Useful for controlling access to a door or gate, the ETAS terminal provides a programmable signal output which activates with each validated card-swipe and/or PIN-entry. (Door control hardware and electronics are not included and must be provided separately.)

ETAS may also be used in dual reader applications. Dual card-readers allow the use of separate card-reader devices for entry and exit.

ETAS features a number of card-reader options including barcode , proximity, and magstripe. Modes include card-and-pin or card-only. If desired, card-readers may be excluded, allowing the system to be used in keypad-access mode - the most economical solution.

ETAS is firmware-upgradable, allowing remote field-upgrades via Ethernet. The process is initiated at the host PC and is completely automatic, requiring no manual intervention at the terminals themselves. There is even built-in fail-safe recovery should a temporary power failure or communication loss occur during an upgrade. If such an event occurs, the terminals retain upgrade capability in non-volatile memory, allowing you to re-start the upgrade later, once the interruption has been resolved.

ETAS uses a Ethernet TCP/IP interface for communication with a host computer (PC). (Also allows optional RS-485 and RS-232.) Using your Windows software or Kadtronix application software, the host computer may perform actions such as adding employees, configuring terminals, monitoring card acces, viewing hours, etc.

Optional access control is available for controlling access to doors and/or gates. The system is customizable to suit your needs.
---
Features
Time and attendance system plus host software
Compatible with dual-reader applications
Optional door/gate access control
Completely customizable
Onboard, battery-backed employee database
Windows application host software available
CSV output files - compatible with database & spreadsheet applications
Nominal firmware licensing
Card-reader options: magstripe, proximity, barcode, keypad-only
Selectable access mode: card-and-pin, card-only
Onboard database supports up to 250 employees
Communications options: Ethernet, RS-485, RS-232
Firmware upgrade capability (plus fail-safe recovery)
Designed with OEMs in mind
---
Host Software


Available ETAS host software runs on a standard Windows PC and provides basic functions for adding users, polling terminals, viewing employee hours, and more! Advanced functions include automatic terminal detection, real-time card-monitoring, and manual commands.

ETAS creates CSV (comma-separated values) output files on your computer's hard-drive for easy integration with database & spreadsheet programs. CSV files are stored in text format, typically to the following folder on your PC:

C:\Program Files\Employee Time and Attendance\Data

Database, spreadsheet, script, or other CSV-compatible application can access the files directly at this location. Refer to the following sample CSV file content representing a single day's entry for employee 10065500:

| | | | | |
| --- | --- | --- | --- | --- |
| Employee ID | Dept. | Term. ID | Time IN | Time OUT |
| 10065500 | 1000 | 00100001 | 02/10/06 8:00:22AM | 02/10/06 10:01:03AM |
| 10065500 | 1000 | 00100001 | 02/10/06 10:30:11AM | 02/10/06 12:00:36PM |
| 10065500 | 1000 | 00100001 | 02/10/06 1:00:08PM | 02/10/06 3:00:47PM |
| 10065500 | 1000 | 00100001 | 02/10/06 3:30:45PM | 02/10/06 5:00:19PM |
---
Customizations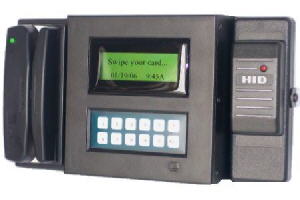 .
ETAS terminal with optional card-readers: barcode (left) & proximity (rigt)
Need a specific feature or function? Unlike most time/attendance systems on the market, ETAS hardware, software, and firmware can be customized to suit your specific needs. We do customizations all the time and can accommodate your request.
---
Screenshot
ETAS host application screenshot is shown below: