USB Digital I/O Commander, v6.1
Digio-U4x1

Digital I/O Monitor and
Control PC Application
Price: $39
(software only)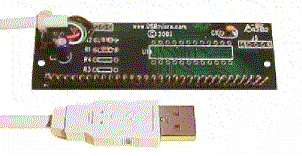 Now supports the U451 relay interface
(Control lights, motors, cameras, and more!)

---
Description:
Would you like to use your PC in a data acquisition or control application? The USB Digital I/O Commander ("Digio") allows you to set digital outputs and read digital inputs. In addition, it allows you to specify an action to occur when a specific trigger input or set of inputs change state. For instance, you can configure the software to send a pre-determined e-mail message to a recipient when input bits 0 to 3 equal the value "14". Or, configure to play a wav sound when bit 5 is "high". You can do this and much more. With 8 different notification types, the possibilities are limit-less.

New in version 6.1: Updated e-mail client - permits configurable SMTP port number and SSL security for webmail accounts such as Gmail, Hotmail, and Yahoo.
You can even perform powerful automation, control, and monitoring functions over your building's existing A/C wiring using X10 signals. Activate appliances, lights, fans, and other devices - all under Digio control. Compatible with X10 modules including lamp controllers, motion sensors, wall switches, plug-in modules, RF receivers, etc. You can also specify X10 notification events. These events behave like other Digio triggers and generate one or more notification(s) when the specified X10 signal is received. (Requires USB PowerLinc 1132U computer interface, available at SmartHome, Inc.). There are a number of possible applications that can make use of X10 technology. Here are just a few:
Automation
Process control
Security
Research
Robotics
Motion Detection

Industrial Control



New in version 6.00 - includes support for U451 relay interfaces !!!
You can now use
UsbMicro
U451 relay interface boards with our Digio software. Like the standard U401 and U421 interfaces, the U451 includes general-purpose I/O signals which may be configured as inputs or outputs. In addition, there are two onboard relays which may be controlled automatically by Digio per your event trigger assignments. Relay control gives your application the power and flexibility to easily activate high-current (up to 2A) external devices such as lights, motors, cameras, and more!

---
USB Digio Features:
---
Screenshot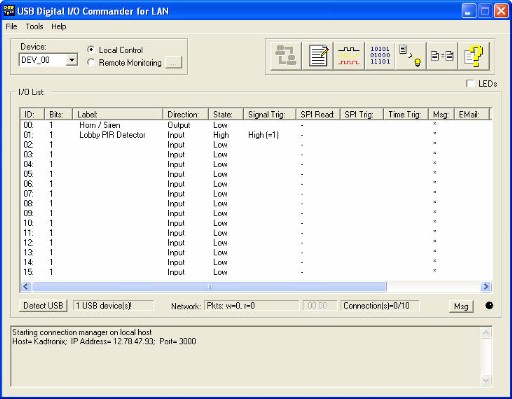 The USB Digital I/O Commander gives you full control of digital I/O for any application including robotics, industrial control, or hobby I/O. The heart of the product is the USB I/O interface. This module provides the interface between your I/O and the PC computer. Taking advantage of USB technology, the system is easily expanded to suit your needs. A single USB module provides 16 I/O signals, configurable in any combination of inputs and outputs. If you need more signals, simply add additional modules.
---
SPI Control
Serial Peripheral Interface (SPI) is a protocol allowing a master device to communicate with many slaves. Now, USB Digio 4.0 gives you access to these devices with a few clicks of the mouse. No microcontroller, firmware, or programming knowledge required. Great for rapid prototyping and proof-of-concept. (Requires USBmicro U4x1 USB interface).
---
*** Now Available ***


Our online tutorial demonstrates just how easy it is to use Digio. With our powerful signal I/O and event configuration features, you can literally have your application up and running in minutes.
---
Also Available!
Do you need a networked solution for accessing your digital I/O? Digio for Local Area Networks (LAN) offers the same functionality as the single-user product with the same U4x1 compatibility. But Digio for LAN goes a step beyond, allowing networked computers to monitor U4x1signals and events. Ideal for applications where remote monitoring is needed including alarms, data acquisition, etc. Uses a peer-to-peer configuration to allow device information and events to be shared across a network. This powerful application allows you to monitor your system from remote locations. Even receive ASCII messages when event triggers occur. (Requires network interface card/adapter and one or more USBmicro U4x1 USB interface(s).)
Easily connect and disconnect to your target system from remote location(s)
Uses UsbMicro U4x1 hardware interface
Receive system status for up to 10 USB devices in the target system
Supports multiple remote users
Receive text event messages from the target system
Blinking message alert indicator
For more information, Click Here
---

You can view additional Digio product information here.
---
USBmicro U4x1

16 onfigurable I/O signals
1 Mbps peak speed
Includes SPI interface
Relay control (U451 only)

Board size: U401: 3.5" x 1.0", U421: 1.5" x 0.75", U451: 2.75" x 1.75"
Note:

We no longer supply bundled U4x1 hardware.
To purchase a U4x1 device, please contact the supplier.
---
advertisement:
Attention Developers and OEMs:


Want to market your own USB device but don't have the time or resources to develop it? Our

UsbDacq10

design is available for manufacturing and marketing. Features digital I/O, analog-to-digital, SPI, and R/C servo channels. Includes schematic, PCB layout, parts list, hex load file, and host software API (plus demo application)

.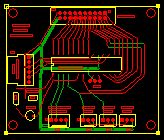 Click here to learn more.
---

Download


Free 14-day Digio software trial offer:
A free 14-day trial is available for a "try-before-you-buy" experience. If you have possible PC compatibility concerns or you simply want to take a test drive, you are invited to install and use the trial.


When you are ready to purchase, you will be provided a license key to activate your software. No additional download will be required.

---
Buy Digio Software:


Product

Price

Purchase

Digio Single-User, v6.0 (software only)
(U401 / U421 / U451 not included)

$39.00

Digio for LAN, v6.0 (software only)
(U401 / U421 / U451 not included)

$89.00
*** Important: Please read...***:
Purchases are handled by PayPal. You do not need a PayPal account or membership. Non-PayPal members may complete the purchase with a major credit card. When you are re-directed to the PayPal website, simply click the "Secure Checkout" button if available. Or, look for the following:
"If you do not currently have a PayPal account, click here".
Software download instructions will be provided after purchase.
---
UsbHidApi USB Library 1.1
Would you like to develop your own USB HID application, but don't wish to start from scratch? Check out the USB HID API dynamic link library. It allows you to develop a PC host application using simple Open(), Read(), and Write() function calls, encapsulating the complexity of Windows USB HID calls. Free demo application included (plus source).
---